I have spent some time trying to solve this texture issue that appeared when I reference Malcolm into my scene. There is a cluster of polygons on Malcolm's left hand, middle finger that have a different assigned texture. To Malcolm's upper body geo. There are three textures I have added in a separate scene. For some reason when I render the scene where Malcolm is referenced. A cluster of pixels pick up the texture of the shirt. I have checked the normals. I have selected the various areas and made sure the right texture was applied on the faces of the geo. I did not UV unwrap Malcolm because in this case I felt it was not needed for the application of basic materials. Any solution to this problem would be wonderful. My current fix is just adding a couple of band-aids to his finger, but the band-aids are noticeable throughout the animation and its not the best solution to fixing a texture problem.

I have thought about UVmapping malcolm.. but when I try to open the UV Texture Editor, I get this. // Error: textureWindow: Object 'polyTexturePlacementPanel1' not found.
Example images of error / quick solution: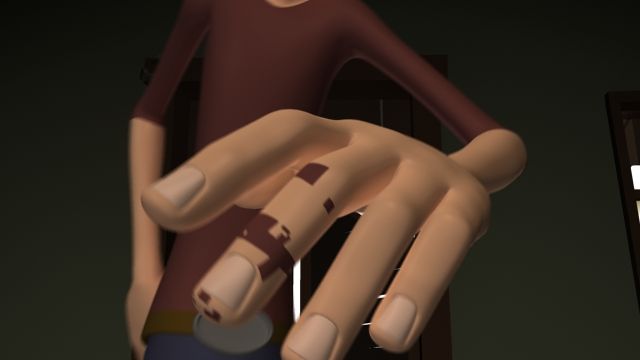 Thanks for the help in advance!